Unity is a shell for the GNOME desktop environment developed by Canonical Ltd for Ubuntu. Now this GUI is discounted.
User Interface
The Unity user interface consists of several components: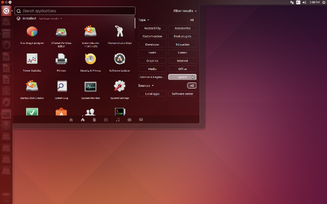 Top menu bar – a multipurpose top bar, saving space, and containing: (1) the menubar of the currently active application, (2) the capture bar of the main window of the currently active application including the maximize, minimize and exit buttons, (3) the global system pulldown menu including the global system settings, logout, shut down and similar basic controls, and (4) the diverse global notification indicators including the time, weather, and the state of the underlying system.
Launcher – a dock that also serves as a window switcher. Multiple instances of an application are grouped under the same dock icon, with a number of indicators to the side of the icon showing how many instances are open. The user has a choice whether or not to lock an application to the launcher. If it is not locked, an application may be started using the Dash or via a separately installed menu.
Quicklist – the accessible menu of launcher items.
Dash – an overlay that allows the user to search quickly for information both locally (installed applications, recent files, bookmarks, etc.) and remotely (Twitter, Google Docs, etc.) and displays previews of results. The Dash search feature was the subject of the privacy controversy.
Head-up display (HUD) – introduced with Ubuntu 12.04. It allows hotkey searching for top menu bar items from the keyboard, without the need for using the mouse, by pressing and releasing the Alt key.
Indicators – a notification area (similar to an OS X menu extra), containing displays for the clock, network and battery status, sound volume etc.
Development
Unity was originally developed for Ubuntu 10.10 netbook edition, with the idea of saving screen space. With the development of Gnome Shell, the decision was made to make Unity the default environment on Ubuntu. Unity has been shipped default since Ubuntu 11.04.
Unity is developed as a plugin for the Compiz window manager using a toolkit called Nux.
Every release of Ubuntu since version 13.04 has included Unity version 7. Ubuntu 17.04 became available with Unity 8.
In 2017, Canonical announced the refusal of Unity development. From Ubuntu 17.10 now GUI was GNOME Shell 3.26.
Now, Marco Trevisan and Martin Vimpress creates a Ubuntu Unity 18.04 LTS because after closing fans is stayed.
Reception
Unity initially received very critical reviews, with many users rejecting the desktop on the grounds that it was inefficient, buggy, and ugly. However, Ubuntu 12.04, with Unity 5, received generally good reviews, being called attractive, and being described as having reached maturity.
Availability
Unity is developed only for use with Ubuntu. However, as per the philosophy behind free and open source software, Unity has been ported to Arch, Fedora, and openSUSE.
External Links