Kubuntu is a user friendly operating system based on Ubuntu. It uses KDE as its desktop. It has a 6 month release cycle and is part of the Ubuntu project (along with Edubuntu, Xubuntu and Lubuntu).
History
Kubuntu was the first official variant of Ubuntu, and was officially released alongside Ubuntu 5.04 Hoary Hedgehog on April 8th, 2005. Shortly after the creation of Ubuntu, Mark Shuttleworth stated:
"I believe that the KDE community does phenomenal work, and having a community-driven distribution to showcase that work will help attract users and developers to the project. Our overall goal in the Ubuntu project is to further the adoption of free software on the desktop and the server, and we recognise that KDE is an essential part of the mix of desktop environments that allows people to find the best environment for their needs."
Canonical ceased sponsorship of Kubuntu in 2012. The German company Blue Systems took over this role. This change caused the two Canonical employees working on Kubuntu to transfer to Blue Systems.

Releases
Kubuntu follows the same release schedule as Ubuntu, with a new release every six months. Kubuntu also uses the same naming convention as Ubuntu.
There are currently four supported releases: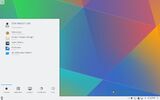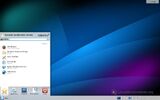 Kubuntu 16.04 Xenial Xerus is the previous LTS, released on April, 2016. It will receive updates for five years until April 2021.
Kubuntu 18.04 Bionic Beaver is most recent LTS, released on April 26, 2018. It will receive updates for five years until April 2023.
Kubuntu 18.10 Cosmic Cuttlefish is the previous stable Kubuntu, released on October 18, 2018. It will receive updates for nine months until July 2019.
Kubuntu 19.04 Disco Dingo is the most recent Kubuntu, released on April 18, 2019. It will receive updates for nine months until January 2020.
External Links